go back to main studio page



KORG TRIDENT

performance synthesizer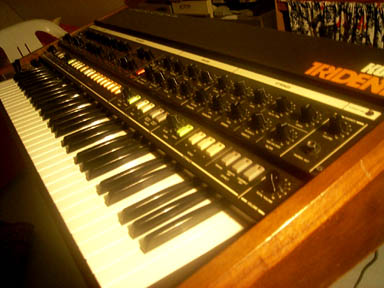 I don't have this synthesizer anymore I have a littlebit regret for that...but also not because it wasn't that hot anyways.
It must be one of the best looking synthesizers around though, the wood, the MS20 style knobs, the switches...its supersexy but dumb as fuck on the inside.
Somewhere on the internet it sais that this was Korg's answer to the Roland Jupiter 8, Prophet 5 and Yamaha CS80...well that is complete bollocks (for that matter Korg never had a comparable synth to these synths, except for maybe the PS-series but those are in a more exotic class imo)
In no way the Trident is comparable to these flagship synths...its more comparable to a Crumar Trilogy or any simple polysynth with build in string ensemble combo.
The Trident has 3 parts. First there is the very limited 2 oscillator synth, it sounds quite ok but then you can't detune the 2 oscillators to any interval (there is no chord memory either to make up for this). Also when you save a sound and call it back you can't program it anymore. Then there is part 2 which is a "Brass synthesizer" section, this means an even more simpler 1 osc polysynth with almost nothing to program about it. Part 3 is a simple full polyphonic string ensemble which sounds very gritty. IMO not very nice sounding...a Lambda or PE2000 sounds way better. Now there are some positive things too about the Lambda, you can layer all these 3 parts together and put some nice effects over it...a strange choice however is that Korg put a flanger effect in the Trident instead of a Phaser which would make more sense with strings but this gives some exotic variations.
For a performance synthesizer the lack of chord memory, arpeggiator, hold or even portamento is a big weakness. I've seen Tridents go for funny prices lately they are really not worth that much money...a cheaper Korg Poly Six outclasses the Trident on all fronts imo.